As an Aveda Lifestyle Spa, Blue Sky Spaworks in Warwick, RI is socially and environmentally committed by its use of Aveda pure plant and flower based products. Our team of highly trained professionals is inspired to help you look and feel your best in a nurturing environment.
Taking care of your body is essential for keeping the mind, body and soul balanced. Listen to your body. Treat your body well. Untwist the knots, relax, rejuvenate and replenish yourself to restore balance.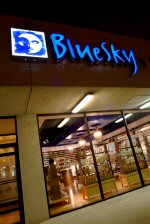 Experience the amazing well-being our treatments are designed to create. We're dedicated to restoring balance and energy to your life.
Stress, sun, environment, and signs of everyday living diminish with the skilled hands of our staff. We take a holistic approach to determine what will enhance your best features and suit your lifestyle.
Blue Sky Spaworks is an oasis of renewal. Our objective is to eliminate tension caused by busy work schedules and stressful daily routines. Blue Sky Spaworks was designed and created with relaxation in mind. Our treatment rooms are spacious and private, the atmosphere calm and tranquil. Enjoy personal attention, expert care, an intimate setting, and exquisite treatments.
Let us reawaken a feeling of well-being.
Tell us what you think!
At Blue Sky Spaworks, we are always trying to improve the way we serve you.
Please tell us about your experience with us, or join our email club.

Please note that Blue Sky Spaworks is not affiliated with any other spa or salon with a similar name.
Blue Sky Spaworks is the recipient of Aveda's Holistic Spa Award 2004, and a five-time Rhode Island Monthly Readers' Poll winner for Best Day Spa.