All manicures include your choice of aroma as well as shaping, filing, and polishing nails.
Shellac Manicure
New hybrid polish technology goes on like polish with an average wear time of 10-14 days. Experience a mirror finish with no drying time and no damage to your natural nail. (45 to 50 minutes) $40
Shellac Soak-Off
Blue Sky will remove Shellac polish applied here at no charge. Removal for gel polish applied elsewhere will incur an $8 charge. Please let us know when you schedule your appointment if you require a soak-off, and if you know what product was applied.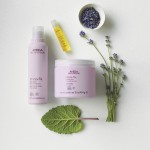 Manicure
Customized care for your hands includes cuticle work, exfoliation, and massage.
(30 to 45 minutes) $24
Spa Manicure
A manicure with an added soothing application of Aveda's Intensive Hydrating Masque. Heated mitts deliver relief to dry or irritated hands.
(30 to 45 minutes) $30
Chakra Balancing Manicure
Enhance your manicure with Chakra Balancing Blend™ aromas and essential oils along with a relaxing hand massage to relieve tension in overworked hands.
(30 to 45 minutes) $25
Polish Change
Clip, file and polish only.
(15 minutes) $16
Add $3.00 for French/British polish.
All prices subject to change.