Relax and enjoy your service in our private treatment rooms, complete with heated tables, customized aromas and products, and the focus entirely on you!
NOW OFFERING COUPLES MASSAGE
Relax and escape by enjoying a side-by-side massage experience. Available in 60- or 90-minute sessions.
60 minutes…..$80 per person
90 minutes…..$119 per person
---
If pregnant, most body services are not recommended at all during this time. Pregnancy massage is recommended after the first trimester with a doctor's note.
BODY MASSAGE
Customized for your specific needs, whether for relaxation or a little deeper. Choose the time that's right for you. Time listed includes sensory journey and massage time. Please arrive ten minutes prior to your appointment time to fill out your massage questionnaire.
| | | | |
| --- | --- | --- | --- |
| 30 minutes | $44* | 45 minutes | $65* |
| 60 minutes | $80 | 90 minutes | $119 |
*For shorter appointments, we will focus on one or two areas of the body.
(Full body massage is a 60 or 90 minute session.)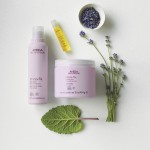 STRESS-FIX™ MASSAGE
60 minutes…..$80
90 minutes…..$119
The Stress-Fix ™ aroma is clinically proven to relieve feelings of stress. The aroma includes essences of lavender, lavandin, clary sage, frankincense, and vetiver from organic farms. The Stress-Fix™ body massage combines Swedish massage techniques with deep tissue, reflexology, and acupressure techniques to help the recovery process through the power of touch.
CHAKRA BALANCING MASSAGE ………….. $80
(Fifty-five to sixty minutes)
The Chakra Balancing Massage is an innovative treatment focusing on the seven chakra energy centers of the body using a variety of massage techniques. The treatment features the Aveda Chakra Balancing Blends, with massage on specific points on the back and spinal muscles, chakra reflexology massage on the feet, and energy work for the chakras. In addition, a guided meditation will enhance the benefits of stress relief, decreased muscular tension and increased energy.
LA STONE THERAPY ………….. $120
(One hour and twenty minutes)
Fifty-four heated basalt stones provide warm relaxation to the body through light massage.
PREGNANCY MASSAGE ………….. $80
(Fifty to fifty-five minutes)
Perfect during second and third trimester for aches and discomfort during pregnancy. Therapists are certified in prenatal massage. In the case of gestational diabetes, pre-eclampsia, or pregnancy of multiples, we may not be able to perform the service, so please advise of any of these conditions when booking.
*Written permission required from doctor/midwife for this service, please. For your safety and comfort, we do not perform massage during the first trimester.

LOMI LOMI MASSAGE ………….. $120
WARM LOMI MASSAGE ………….. $130
(Sixty-five minutes)
Handed down from the sacred temples of Hawaii, what makes this massage unique is how the therapist uses forearms to perform most of the treatment. The massage begins face down with both legs and back exposed. Working in long flowing movements, the therapist begins to massage the entire body from head to toe and back again. The massage continues face up with similar draping so the legs and torso are exposed. Lomi Lomi finishes with a deep face massage which can send you to another level of relaxation. All in all this is a very nurturing and comforting massage. Traditional Hawaiian music will be played during this treatment. If you normally shave your legs, please do so the night before or the day of your appointment.
If you tend to run cool during regular massages, heated hydrotherm pads can be added for an additional charge.
*Please specify Lomi Lomi or Warm Lomi when booking.
All prices subject to change.